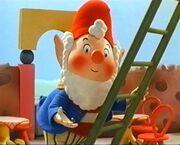 Big Ears
is the tritagonist from
Tessie Bear
and
Noddy
series books by Enid Blyton. He describes his ears as too big, and his cap which was "either too pointy or not pointy enough." He is a friendly gnome who is Noddy's helper and father-figure. He lives in a giant toadstool just outside the Dark Woods. He has a long, white beard, long red pointy cap, blue jacket, red-and-white striped jumper and yellow-and-green trousers. He first meets
Noddy
when he's riding his bicycle to visit Toyland. Noddy accidentally knocks Big Ears off his bike and tells him he's ran away from his toy-maker.
Big Ears Bicycle
and
Big Ears Mushrooms House
,
Big Ears hat
, takes him under his wing, gives him and name and helps him move to Toyland. In the 1970's version, Big Ears is voiced by
Richard Briers
. In
Noddy's Toyland Adventures
he is voiced by
Jimmy Hibbert
and is currently voiced by
Michael Dobson
in
Make Way for Noddy.
Big Ears has a great knowledge of magic and history and is the wisest resident of Toyland. Noddy always comes to Big Ears for advice. His catchphrase is "You funny little Noddy!" In the 90's version he appears in all episodes except
Noddy and the Naughty Tail
,
Noddy Meets some Silly Hens
and
Noddy Lends a Hand
.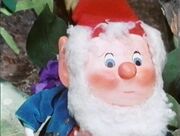 Television series
Edit