Count Duckula

Title Card

Voices

David Jason
Jack May
Brian Trueman
Jimmy Hibbert
Ruby Wax

Aired

6th September 1988-16th February 1993

No. of Series

4

No. of Episodes

65

Related Series
Count Duckula was aired from 1988-1993. It was a spin of Danger Mouse where Count Duckula had first appeared as villain.
However in this series Count Duckula is a vegetarian vampire duck thanks to Igor (his butler) and Nanny (his nanny and housekeeper) accidently pouring Tomato Ketchup in his awakening casket instead of blood when they were bringing him back from the dead, making him prefer carrots and broccolli sandwiches and hating the sight of blood.
The series goes on with Duckula living at his spooky castle called Castle Duckula wanting to find fame and fortune as an entertainer such as a musician or actor, visiting mysterious and exotic places with the castle that he controls by saying certain words into his special coffin. It can travel anywhere anytime but vanishes at standard Eastern Transylvanian time going back to it's original location because of the clock which is part of the travelling mechanism.
He often runs into his arch enemy Doctor Von Goosewing, an insane scientist and vampire hunter who refuses to believe that this Count Duckula is harmless and the Crow Brothers who often try to unsuccessfully burgle the castle. Igor is greatly disappointed by Duckula and tries several times to get him to become a real vampire but it often fails. Nanny is dimwitted and always misunderstanding everything that is said to her. However she is deeply devoted to Duckula and does everything she can to help although she often makes a bungle of it.
Each episode would start with the narrator describing the horrors of Castle Duckula with screams and sounds before getting into the storyline and then ending with : "Good Night out there. Whatever you are." with a evil laugh before going into the end credits.
This show had a major impact on children and adults alike and became one of Cosgrove Hall's most popular programmes. Some even consider it to be better than its predecessor.
Cast
Episode List
Sixty Five episodes were produced in this series:
Series One (1988-1989)
01. No Sax Please We're Egyptian

(Aired 6th September 1988)

Igor's stories inspire Duckula to search for a mystical Egyptian saxophone that he hopes will enable him to be a smash hit in show business. However the Crow Brothers also have an interest in the instrument.

(First Appearance of Count Duckula, Igor, Nanny, Doctor Von Goosewing in a cameo, Dmitri, Sviatislav and the Crow Brothers)

02. Vampire Vacation (Aired 13th September 1988)

Tired of the gloomy weather at Castle Duckula, Count Duckula goes to Spain to visit his Cousin. But Doctor Von Goosewing, a crazed Vampire hunter is on his trail.

(First Appearance of Doctor Von Goosewing)

03. One Stormy Night (Aired 20th September 1988)

Lightning brings to life a statue of one of Duckula's ancestors who goes around making trouble. Meanwhile Count Duckula goes for a snack while Von Goosewing is trying to bring his robot to life.

04. Transylvanian Homesick Blues (Aired 27th September 1988)

Count Duckula, Igor and Nanny join Mr. Fexzactely on his carnival roller coaster, which takes them on a trip through time.

05. Restoration Comedy (Aired 4th October 1988)

Count Duckula hires Mr Roberto to decorate and refurbish the castle much to the disgust of Igor and Nanny. Meanwhile Goosewing uses this opportunity to kill the Vampire Count.

06. The Mutinous Penguins (Aired 11th October 1988)

Count Duckula and the gang find themselves marooned on an ice flow with some defrosted Vikings by a mutinous crew of penguins as they sail the seas in search of Castle Duckula.

(First Appearance of the Mutinous Penguins)

07. Doctor Von Goosewing's Invisible Ray (Aired 18th October 1988)

Doctor Von Goosewing is setting up his paralyzing invisibility ray while Count Duckula, Igor and Nanny are quarreling over Yoga and Conjuring Tricks.

08. Down Under Duckula (Aired 25th October 1988)

Castle Duckula travels to Australia instead of Austria by mistake, where he gives away the cuckoo clock to an Australian which is a vital part of the travelling mechanism of the castle.

09. All in a Fog (Aired 1st November 1988)

Count Duckula goes to London in hopes of being a great detective, only to get mixed up in robbery of the Crown Jewels.

10. Castle Duckula Open to the Public (Aired 8th November 1988)

Count Duckula decides to turn his castle into a tourist attraction to raise money. Meanwhile Goosewing has another dastardly invention to try out on the Count.

11. The Ghost of MacCastle MacDuckula (Aired 15th November 1988)

While Count Duckula is on his travels to see the Loch Ness monster and play some golf, Igor tricks him into going to a gloomy castle with a scottish vampire duck as it's host.

12. Igor's Busy Day (Aired 22nd November 1988)

When a young couple's car has broken down and they seek shelter at the castle, this brings back memories of the bad old days for Igor.

13. Auto Duck (Aired 29th November 1988)

The scheming Crow Brothers try to swindle Duckula by using ways to help him beat the new land speed record to attract loads of tourists for his new bed and breakfast business.

14. The Vampire Strikes Back (Aired 6th December 1988)

When Goosewing's latest blast from his weapon unites with Nanny's home-bottled sarsaparilla, a tower of the castle is launched into outer space, where they meet Duckula's hero, "Tremendous Terrence," who abandons them on the deadly planet Cute.

15. Hardluck Hotel (Aired 13th December 1988)

Duckula meets a "Basil Fawlty" like manager at a gloomy hotel when he tries to take a holiday alone out of Transylvania.

16. Hunchbudgie of Notre Dame (Aired 20th December 1988)

Count Duckula stands to lose Nanny and the castle when he buys the Eiffel Tower and gets mixed up by a gang of Art thieves who want to add the Mona Lisa to their collection.

(First Appearance of Gaston and Pierre)

17. Dear Diary (Aired 3rd January 1989)

Duckula tries to publish his ancestors' memoirs.

18. Rent a Butler (Aired 10th January 1989)

Igor and Nanny argue with Duckula about their pay, so he rents them out when he learns how much servants are paid in other homes. However he soon realises that there is no one to do his meals.

19. Jungle Duck (Aired 24th January 1989)

After buying a set of encyclopedias, Duckula goes in search of an African temple and find it's treasures.

20. Mobile Home (Aired 31st January 1989)

When American tourists want to buy Castle Duckula, the Crow Brothers decide to help them by taking it apart and transport it to America brick by brick.

21. A Fright at the Opera (Aired 7th February 1989)

Count Duckula, Igor and Nanny visit the old Milan Opera House, but an evil Phantom lurks about.

(First Appearance of the Phantom and his servant Cruel)

22. Doctor Goosewing & Mr Duck (Aired 14th February 1989)

Doctor Von Goosewing has a new invention of his patent Carpet Shampoo which reverses everyone's characters. Count Duckula turns into a blood sucking vampire, Igor loves all nature and is always cheerful and Nanny becomes extremely smart and a complete genius.

23. Town Hall Terrors (Aired 21st February 1989)

Duckula goes to the town council after he decides that his castle is beginning to fall apart.

24. Sawdust Ring (Aired 28th February 1989)

Duckula, Nanny and Igor join the Straciatella circus after the ringmaster's employees left for not being paid. But it isn't long before the performance is a disaster.

(Danger Mouse makes a cameo in the audience)

25. Duck and the Broccoli Stalk (Aired 7th March 1989

Doctor Von Goosewing invents a potion to make things grow, but it then gets spilled on Duckula's broccoli where it ends up growing high into the clouds leading Count Duckula, Igor and Nanny to a castle with a man-eating giant.

26. A Family Reunion (Aired 21st March 1989)

Duckula's relatives are coming to visit for a once a century family reunion, which worries Duckula because if you're not a real vampire they kill you. So he disguises himself and teams up with Goosewing to get rid of his rotten relatives.
Series Two (1989-1990)
27. Ghostly Gold (Aired 12th September 1989)

After reading a newpaper stating that there's gold hidden in the hills of a far off town, Duckula decides to do some gold digging. However the town is a ghost town and a newspaper is dated back hundreds of years ago.

28. Ducknapped (Aired 19th September 1989)

A pair of kidnappers named Denzil and Cuthbert plan to kidnap Duckula and hold him for ransom, but they mistake Doctor Von Goosewing for Count Duckula.

29. The Lost Valley (Aired 26th September 1989)

Count Duckula and the gang get transported into a movie when they are searching for some treasure.

30. The Incredible Shrinking Duck (Aired 3rd October 1989)

Doctor Von Goosewing's shrinking ray reduce Castle Duckula and it's inhabitants to a small souvenier into a small snow globe.

31. Hi-Duck (Aired 10th October 1989)

While bound for a holiday in Nice, Duckula and the gang board a plane that Gaston and Pierre are attempting to hijack.

32. Prime Time Duck (Aired 17th October 1989)

Transylvanian Television are doing a documentary on Castle Duckula and the Count. However Igor is more suited to be the Count and poor Duckula has to be the five servants of Count Igor and Countess Nanny.

33. Bloodsucking Fruit Bats of the Lower Amazon (Aired 24th October 1989)

Down in the Amazonian Jungle, Duckula is asleep in a tent and a tribe of fierce females tickle his feet and bats capture him and the gang. But then the tribe take Nanny as their leader much to Duckula's annoyance.

34. The Count and the Pauper (Aired 31st October 1989)

Tired of being a vampire, Duckula leaves the castle and bumps into his exact double Sid Quack, who is tired of being a peasant. They trade places, but are soon begging to go back to their normal lives.

35. Arctic Circles (Aired 7th November 1989)

To escape a Transylvanian heat wave, Count Duckula takes Castle Duckula to the Arctic Circles in search of the North Pole. In the process he finds a 'stately igloo' and hires a new butler. Igor makes an unlikely alliance of sorts with Doctor Von Goosewing in order to get rid of the new butler.

36. Transylvania Take-Away (Aired by 14th November 1989)

Gaston and Pierre pose as Chinese chefs in oder to steal two priceless Ming Vases.

They fail and Duckula notices that the vases joined together make a map leading to store of hidden Treasure of How Fat on the Isle of Moi Chow. However there are others interested in the treasure including the Mutinous Penguins.

37. Whodunnit? (Aired 21st November 1989)

Duckula is called to Henham Palace in Duckfordshire England to hear the will of the 7th Duke of Mallardborough (His Great, Great Uncle Twice removed).

But then the Duke appears to be murdered and the Count is involved in a murder mystery.

38. No Yaks Please We're Tibetan (Aired 28th November 1989)

Count Duckula and the gang scale the mountains of East Duckapoorna. Meanwhile the Crow Brothers are aswell. But both of them run into the Abominable Snowman.

39. Beau Duckula (Aired 5th December 1989)

Fed up with Nanny's hugs, Igor's lectures and finally Von Goosewing always hunting him, Count Duckula runs away to join the French Foreign Legion, but he soon discovers that life there is much worse.

40. Mississippi Duck (Aired 12th December 1989)

Duckula and the gang take a trip down stream by a Mississippi boat captain when the Count fancies himself as a World Famous Jazz Trumpeter.

41. Amnesiac Duck (Aired 19th December 1989)

Count Duckula falls through a hole and bangs his head transforming him to Igor's delight as an ideal Vampire Duck.

42. The Mysteries of the Wax Museum (Aired 7th January 1990)

When Duckula and the gang walk into a Wax Museum the owner makes clones of them to rob a bank.

43. The Return of the Curse of the Secret of the Mummy's Tomb Meets Frankenduckula's Monster. (Aired 9th January 1990)

Duckula finds himself fleeing from various dangers: a werewolf, a monster resurrected by Igor, a mummy accidentally brought to life by him, the vampire hunter, some village folk, and an alien trying to take over the world disguised as a cabbage.

44. The Lost City of Atlantis (Aired 16th January 1990)

Count Duckula becomes stranded on a tiny Island where the city of Atlantis is hidden.

45. Bad Luck Duck (Aired 23rd January 1990)

Duckula is trying to prove how silly Nanny's superstitions of Bad Luck and Friday the 13th are.

But the poor Count experiences a lot of Bad Luck himself.
Series Three (1990-1991)
46. Private Duck (Aired 22nd October 1990)

After having no more Detective Stories to read, Duckula decides to be a Private Detective himself.

47. Astro Duck

(Aired 29th October 1990)

Duckula now has a craze with computers, but a lightning flash boosts it's circuit giving his computer amazing powers that get the Count into trouble.

48. Unreal Estate (Aired 5th November 1990)

Count Duckula decides to sell his castle in Hollywood, much to Igor's dislike. However both Doctor Von Goosewing and Igor are making it very hard for him to make a sale.

49. Bombay Duck (Aired 12th November 1990)

An evil Genie in a lamp lures Duckula, Nanny and Igor to an empty treasure cove while he steals the special coffin that is part of the castle travelling mechanism to impress the Princess.

50. There are Werewolves at the Bottom of Our Garden (Aired 19th November 1990)

Tauser, the castle werewolf has escaped to the Really Creepy Forest where everyone gets seperated. To make matters worse, Count Duckula has to face a witch who is abroad and Doctor Von Goosewing has invented a mechanical robot werewolf to catch him.

51. Duck Ahoy (Aired 19th November 1990)

Duckula decides to enter a yacht race.

52. The Great Ducktective (Aired 3rd December 1990)

An interview with two famous detectives doesn't go according to plan for Count Duckula. Meanwhile Doctor Von Goosewing has to deal with a mysterious famous auntie.

53. Dead Eye Duck (10th December 1990)

Tired of the freezing cold weather in Transylvania, Duckula transports the castle to Colarado where he has a Wild West Adventure.

54. The Show Must Go On (Aired 17th December 1990)

Duckula is staging a pantomime called "Jack and the Giant Walnut" with the help of the Crow Brothers, who see this as another opportunity to burgle Castle Duckula.

55. A Christmas Quacker

(Aired 26th December 1990)

Christmas has arrived, but it's not all happy. After being hit on the head by one of Nanny's Christmas puddings, Duckula dreams that he is with Tremendous Terrence. Father Christmas gets lost in many of the chimneys while Doctor Von Goosewing has a nasty present for Count Duckula and the Crow Brothers are once again planning to break into the castle.

56. The Rest is History (Aired 7th January 1991)

Determined to end the Duckula dynasty once and for all, Duckula travels back in time to stop the very first Count Duckula (who is also the only other vegetarian) from becoming a bloodsucking vampire so that he won't have a long line of vampire ancestors. Unfortunately Igor is determined to spoil all of his plans.

57. 00 Duck

(Aired 14th January 1991)

A diabolical criminal mastermind called "The Egg" takes over Castle Duckula to help in his masterplan for world domination.

(First Appearance of The Egg)

58. Mystery Cruise (Aired 21st January 1991)

Nanny wins a cruise for three on a luxury liner (much to Igor's displeasure), but many catastrophies happen on board and to the crew.
Series Four (1993)
59. Around the World in a Total Daze (Aired 5th January 1993)

Sibelious Smogg, a world famous explorer is now tricked by Doctor Von Goosewing into challenging Count Duckula to a Round-the-World race.

(Final Appearance of Doctor Von Goosewing)

60. Manhattan Duck (Aired 12th January 1993)

The castle accidently lands in downtown Manhattan where New York's fashion is keen on the theme of Transylvania.

Duckula sells the castle's contents including Igor and the clock which is their only way of getting home.

61. Alps a Daisy (Aired 16th January 1993)

Duckula enters all the winter sport events being held in the alps at a competition.

62. Prince Duckula (Aired 26th January 1993)

After Duckula appears on television, he is selected to impersonate a well known prince for a group of revelutionaries.

63. Venice a Duck Not a Duck (Aired 2nd February 1993)

The Egg returns for revenge using Count Duckula's past enemies to help in his scheme.

(Final Appearance of The Crow Brothers, the Egg, the Phantom, Cruel, Maurice the Strongman, Charlie the Clown, the Mutinous Penguins and Gaston and Pierre)

64. A Mountie Always Gets His Duck (Aired 9th February 1993)

Geoffrey the Mountie chases a criminal named Marcel all the way to Transylvania. Duckula agrees to take him home on one condition: He becomes a Mountie too.

65. The Zombie Awakes (Aired 16th February 1993)

The evil Doctor Quackbrain lures Count Duckula into his dream machine for a terrible experiment. However Igor and Nanny are around to foil his plans.

(Final Episode of the Series)
Categories
Running gags
Whenever Duckula meets a female he asks her if he can call her by her first name or something else. She answers "No" and he says "Thank you."
Dmitri and Sviatoslav (the clock bats) often pop out telling each other extremely awful jokes.
The doorbell rings and Nanny says "I'll get it." She ends up breaking the door and Duckula asks Igor to order another door.
The castle always arrives in Transylvania just as Duckula is almost accomplishing his goal or objective.
The Crow Brothers are climbing something, however they always lose their grip, get pushed or slip plummeting to the ground far below with a thud.
A strange section of the credits often appears such as "Jokes" or "Costumes."
Theme tune
The lyrics for the intro:
In the heart of Transylvan-ia
In the Vampire Hall of Fame-Yeah,
There's not a vampire zanier than...

DUCKULA!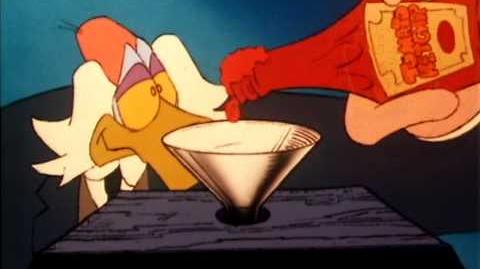 He won't bite beast or man,
'Cos he's a Vegetari-an
And things never run to plan for...

DUCKULA!

If you're looking for some fun,
You can always count upon,
The wild and wacky one they call...

DUCKULA!
Heh Heh COUNT DUCKULA! Heh Heh Heh

The lyrics for the outro: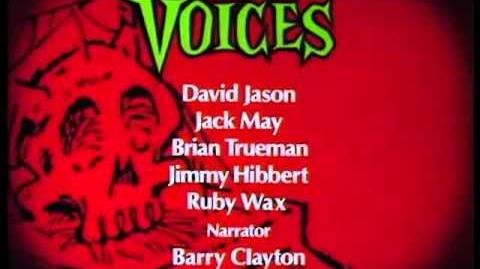 If you're feeling...(Screams)
Or you kind of...(Ghoulish Laughter)
Could be you've met up with...

DUCKULA!

If your knees go...(Knock Knock)
And your teeth go...(Chatter Chatter)
Maybe you've bumped into...

DUCKULA!

He flies through the night
Looking for a bite
But he's back home by Daylight

DUCKULA!

If you're sort of... (Boing Boing)
Or you're a little.. (Cuckoo)
It's certain you've ran into...

DUCKULA!

If your heart goes... (Boom Boom)
And your mind goes... (Gibber Gibber)
Man you've had a brush with...

DUCKULA!

So watch out for the...(Roar)
Beware of the...(Hysterical Giggling)
And pray you'll never meet with

DUCKULA! COUNT DUCKULA!
There are two amazing end sequences for Count Duckula in the outro. The first one had the flashing red Duckula logo zooming in and out when they say 'DUCKULA' the first, second, fourth and fifth time, because the third time they say 'DUCKULA' the Duckula face is zooming in and out. That one was at the end of the first 13 episodes in Series One. The second one was slightly changed and didn't have the flashing red Duckula logo zooming in and out when they say 'DUCKULA' the first, second, fourth and fifth time, but it still had the Duckula face zooming in and out when they say 'DUCKULA' the third time though. This one was at the end of the remaining 52 episodes.