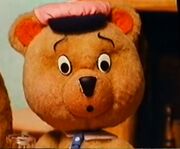 Master Tubby Bear
is the son of
Mr. Tubby Bear
and
Mrs. Tubby Bear
. He is very naughty and often play tricks on,
Tessie Bear
and
Noddy
. He once found a magic lamp, started to rub out all the furniture in his house. Another time he squirted Noddy's washing on the line with a hose when they were nearly dry. In the 1970's he was voiced by Richard Briers. In
Noddy's Toyland Adventures
he was voiced by
Jimmy Hibbert
and in
Make Way for Noddy
he is currently voiced by
Manny Petruzzelli
.
Television series
Edit